PLANTFAMILY.COM

Thomas Gustave Plant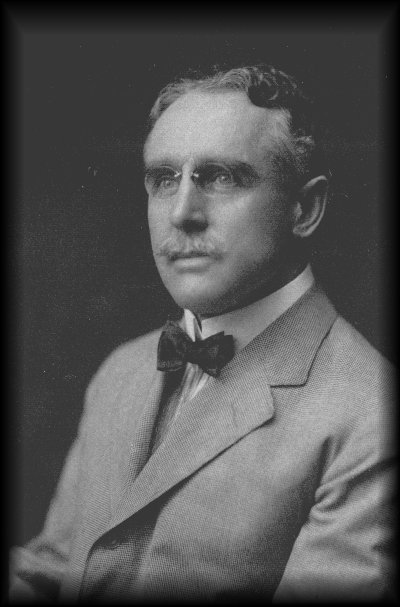 Thomas Gustave Plant was born in Bath, Maine, 23 Floral Street (see The Bath Independent news article below), on January 5, 1859. His parents, Anthony and Sophie Plant (Sophie Rodrique and Antoine Plante), had eight children, the first five died within two years of birth. Thomas was the oldest of three children who lived in Bath with his father and mother. Thomas' father was a fisherman who enlisted in the Civil War, was wounded, taken prisoner, and later exchanged for a Confederate Soldier. While most of Thomas' life, his family lived very modestly, until his father took the children and wife to Virginia, and returned with moneys to invest in properties, and begin a stage line from Bath to St. Georges. While most of the country was "pinched" because of the depression, his father managed to acquire land, start a business, and even afford to purchase a farm for their sister as a wedding present. It was shortly after the return from Virginia to Bath, that both Thomas and his brother, William, made a decision to have nothing to do with the family's newly acquired wealth, and left home to strike it out on their own.
Thomas worked as a boilermaker and an ice cutter. He was also known as one of the best baseball players in Maine. At this time, Massachusetts shoe manufacturers had begun to establish factories in Maine as a strikebreaking tactic against their home shops. Tom became an apprentice shoe laster in one of these "country factories".
In 1880, Tom left Maine for the "shoe-making capital of the world" in Lynn, Massachusetts. The work conditions damaged his eyesight, so he left his job to recuperate with friends in California. Upon his return, he entered manufacturing as an employer, at the age of 25, with money made from a baseball wager. He moved from a co-operative venture in 1885 with his brother William to a partnership in 1887, then began a private company in 1891. Over the next twenty years, the Thomas G. Plant Company of Boston grew into what was claimed to be the world's largest shoe factory. Tom became an advocate of "enlightened" capitalism and a supporter of Teddy Roosevelt and the Progressive Party. He entered the world of invention and patents to develop a new line of shoe-making machines. After a vicious industrial confrontation, he sold out to the multinational United Shoe Machinery Company in 1910 and retired as perhaps the wealthiest Franco-American of his era, according to Prof. Barry Rodrique, author of Tom Plant, A Franco-American.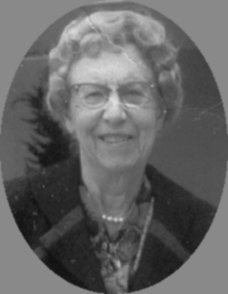 T.G.'s second wife, Olive (Dewey) Plant
After divorcing his first wife Caroline A. Griggs (b: 22 Apr 1862, Chicago, IL, USA d: 3 Jun 1947, Orlando, FL, USA), he married Olive Cornelia Dewey (b: 1883 d: 1976, Laguna Hills, CA, and interned Bath, ME, Sagadahoc, ME) in a ceremony in Chicago, Illinois.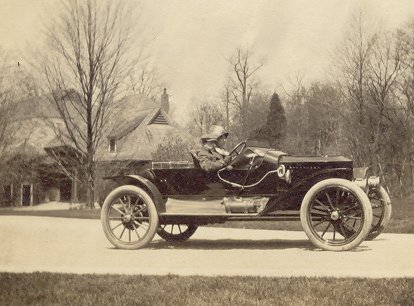 Thomas Corey Plant, drives Amy Elizabeth Plant (T.G.'s brothers children)
from Castle In the Clouds. It was Amy that wrote her uncle Thomas G.,
about the wonderful parcel of land, and suggested purchasing the property.
...

Marjorie, Everett E. and Bill Plant visit their uncle, Thomas G., at Castle in the Clouds. On top of the Crow's Nest, William
(Bill), looks out over Lake Winnipesaukee. T.G. was infatuated with the Griffin, and referred the castle as "Lucknow."
Margaret Dobbins, his sister-in-law, often told the story of how her father, James Dobbins of Scotland, came to the rescue in
his military days, at the Battle of Lucknow. The Dobbins crest incorporated the griffin.
Thomas G. built Caste in the Clouds, a 6500-acre estate and one of the most exclusive golf clubs in the United States on Lake Winnipesaukee, New Hampshire, as well as an old folks home for impoverished workers in Bath. However, just before the stock market crash of 1929, Tom's investments began to go sour. He had invested in Russian bonds just before the October Revolution, in sugar just before its collapse after World War I, and in unproductive lands throughout the Jazz Era. He refused to harvest lumber on his property and Tom Plant died broke, in 1941, just before creditors auctioned off everything he owned. His factory is now in ruins, a casualty of the reputedly largest single-building fire in Boston's history, and his estate is now owned by the Lakes Region Conservation Trust and managed by the Castle Preservation Society.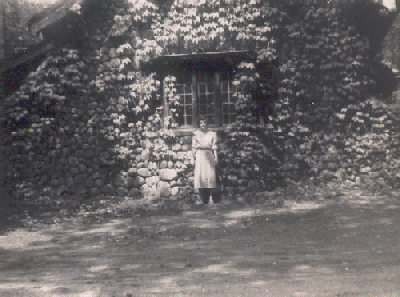 .
Theresa (Boisvert) Plant, wife of Everett E. Plant (nephew to T.G.), visits Castle in the
Clouds on her wedding day, in 1949.
According to Prof. Rodrique, "Although Tom Plant never appeared in Franco-American directories, such as Le Guide Officiel, he would be considered a Franco-American by any of the yardsticks with which is measured by ethnicity. Both his parents were French-Canadian, he was raised in a French-Canadian neighborhood, surrounded by family and friends from Canada, spoke French, spent his leisure time studying French history and traveling in France, and was identified by contemporary Yankees as being French-Canadian. Nonetheless, Francos who tour his estate have not known about his heritage, a subject that has been equally obscure to the Yankee tour guides. Fortunately, this "ethnic cleansing" has begun to change as the details of his life have been made known and his French-Canadian heritage reclaimed."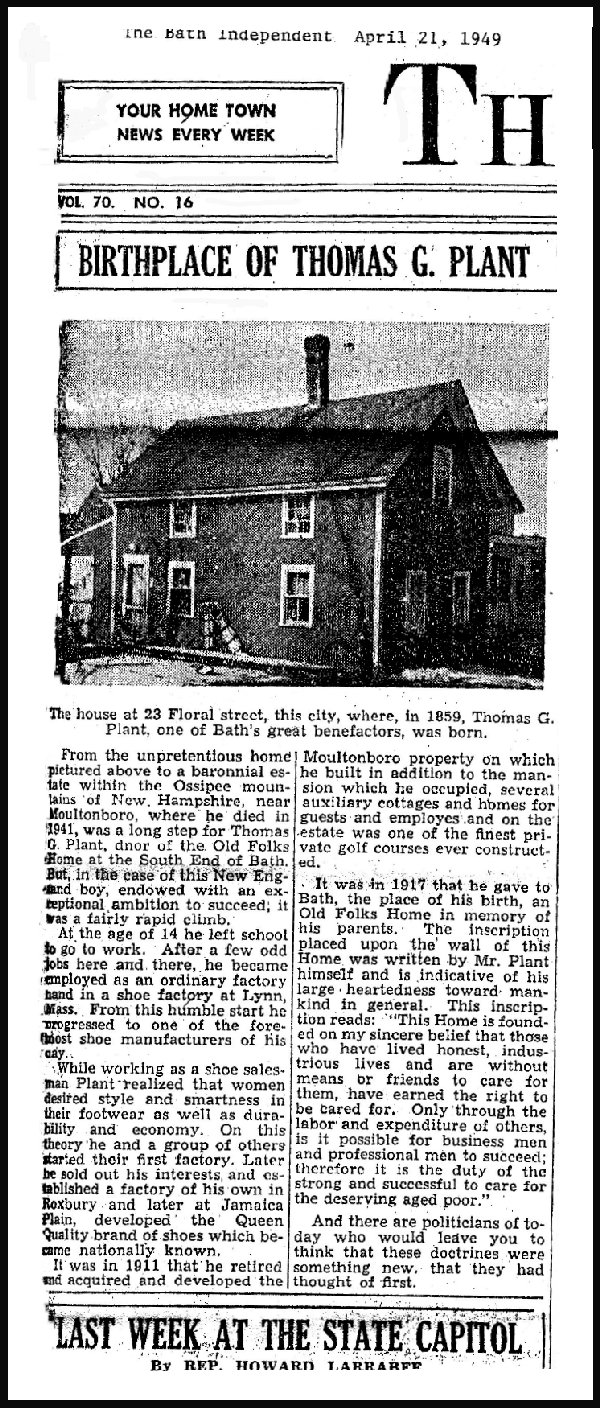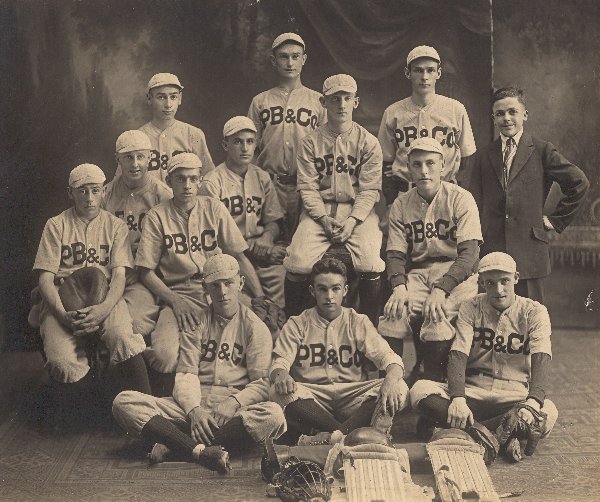 LINKS TO MORE ABOUT THOMAS G. PLANT & CASTLE IN THE CLOUDS
BACK TO PLANTFAMILY.COM BIOGRAPHIES
PLANT FAMILY PHOTO ALBUM
PLANT FAMILY TREE